Alena Dawson
Biographical information
Full birthname
None
Also known as
None
Titles
None
Born
October 4, 2014
Turned
N/A
Died
None
Age
Unknown
Occupation
Unknown
Residence
Silverstone house
Supernatural information
Species
Dhampire
Bloodline
Unknown
Abilities
Photokinesis

Agrokinesis
Atmokinesis/Solarkinesis
Terrakinesis

Family & Relationships
Parents
Payton Silverstone (mother)


Jason Dawson (father)


Siblings
AJ Dawson (brother)


Amore Dawson (sister)
Ava Carrington (half-sister)


Relatives
Unknown
Sexuality
Straight
Relationships
TBA
Children
None
Physical description
Height
5'6"
Hair Color
Blonde
Eye Color
Blue
Portrayed By
None
"
You'd be wise not to underestimate me
"

— Alena Dawson in Bridges Burned
Alena Dawson is a minor character in Touch of Magic and a main character in Once In a Blue Moon. She is the daughter of Jason Dawson and Payton Silverstone. She has two younger siblings : AJ  and Amy Dawson. She lives in Waterfall Creek with her parents and siblings in the Silverstone House.
She is a member of the Silverstone matriline through her mother, as well as The Silverstone Family. She is also a member of the Greene bloodline and The Greene Family through her maternal grandfather. She is a member of both The Dawsons and The Millers through her father. She is Crown Princess Alena in Divitia, Princess Alena in Slivatica and is called Miss Dawson within The Millers and informally Alena in The Dawsons. 
Early Life
Edit
When her mother found out about her (impossible) pregnancy she had it confirmed by Elisabeth , marking Alena's first pressence : on an ultrasound. She would soon hear her father's voice as Payton informs him a couple of weeks after that. Her parents share the word and it gets spread around after their best attempts to hide it. Ever since , Alena has been the target of evil.
When she was a 5-month foetus she was fullgrown ,causing a lot of complications in the unexpected delivery. She almost took her mother's life , but Elisabeth could luckaly avoid that.
In the first few months of her life she lived in Portland , but before her first birthday she moved to Watefall Creek. Her little brother was born 2,5 years later. This was around the time May started to attack her family. When she was four , she got kidnapped by May's people along with her niece and nephews , shortly before the final battle happens. After getting hospitalized , Payton gives birth to Alena's youngest sister Amore , who she calls Amy , just like she calls her little brother Andrew by the name AJ.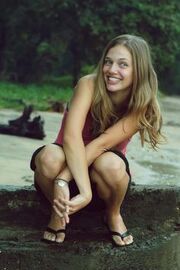 Alena lives a relative simple life, under the protecting of the Millers. She doesn't fully realise the lenghts that her protection goes, and gets to live an innocent childhood because of that. She enjoys the normal, everyday things in life the most. Besides the normal things, there are also some irregular things in her life. Starting at the age of 5, Alena gets frequent lessons in magic from her uncle
Seth Dawson
. She learns mostly the history of magic from him, while her aunt Phoebe and her parents teach her the hands-on stuff of being a Dhampire. She manages to juggle both her genetics relatively well. Around the age of 12, her powers go through another grow spurt, and she starts feeling insecure. She overcomes her fears eventually, after some training. She also trains on other physical strenghts with Justin, while she develops as a vampire with the help of her father. She can outrun Justin from the age of 13. At the age of 15, she has fully mastered pyro, agro, hydro and aerokinesis, as well as being able to do some telekinesis. At 17, she hunts once a week with the rest of her cousins.
Season One

When we meet up we find Alena in school in her senior year at highschool. She is very athletic, due to the early training she recieved as a child, and is part of the cheerleading squad. She is also very active in school activities such as prom , etc. We even find her preparing for Serior prom queen , taking part of the debutante parades which are kind of considered manditory to do with either your senior or junior year to stand a chance at prom queen.

In the summer after her junior year she is conflicted about her future. She decides to remain in town and get more involved in her heritage once again. She starts attending magic school one day a week, and she spends a lot of time at the Millers. After one year, she decides to go and study literature after having spend most of her times in libraries reading up on old folklore. When in university, she meets a fellow book-lover named Owen. The two of them have a hesitant relationship, because Alena is reluctant to opening up to someone who doesn't already know her family and her background. Eventually they get talking about fictional characters instead of themselves, and Alena asks him how he feels about witches. When owen replies with a 'I'm good with it, as long as they don't have cats', Alena laughs which is when he kisses her. She then asks how he feels about vampires, to which Owen says he loves horror movies.

After publishing her first book, Owen makes plans to open a bookstore. When they find the perfect location during a visit back to Waterfall Creek, the couple decides to move back to Alena's home town. They open their bookstore in Water Street.

She quickly leaves the city of Waterfall Creek behind her however , and goes to study literature. In university , she meets a fellow-writer named Owen and they start a relationship. She quickly discovers his family is from Salem , and when he takes her to visit them , she finds out his grandmother is a witch from the Curtis bloodline. When asking her in private about Owen's powers , the lady tells her that she blocked them with a spell , which she says she won't undo unless a cure for cancer is found. Alena decides to take her on that and follows her to an elderly home , to find Mrs. Baxter's husband to be suffering from cancer.

Alena sneaks in when Mrs. Baxter leaves , and cures the man by giving him a little bit of her blood. She is with Mrs. Baxter while Owen says goodbye to his grandmother when the elderly home calls ; and Alena is given what she wanted. That night , Alena and Owen spend the night at an hotel on their way to meet hér parents when Owen tells her he knows about her and his grandma.. Shocked at first , Alena is nothing but relieved , and she guides him while he levitates his first object.
Personality
Edit
Appearance (if applies)
Edit
Relationships
Edit
Vampirism/Magic (if applies)
Edit
Powers and Talents
Edit
Alena is one out of 4 characters who were cheerleaders at one point

The other characters include Alyssa (Senior Year at SJBS) , Chloë (University Scolarship) and Amanda (High School)